The Birth of a Mother
After all the preparation and hard work, the child is born, and with it,
THE MOTHER
But who supports the mother in her new crucial role?
She may have family, friends but they may have their own busy lives. She may live in London far from any relatives, her partner probably works long hours to allow them to live in the capital city: she may work long hours too, inside or outside, of the home. She may rely on books and the internet to guide her. They say it takes a village to raise a child, it also takes a village to raise a Mother.
A monthly support group for mothers at any stage of mothering; whether you are pregnant, have a baby, a toddler, a school-age child, a home-schooled child, a teenager, multiples or a combination of all. We are all in this together.
Mindful Mothering evolved after many chats with mum friends in the playground, in the bar, at some bouncing baby class or other, when I realised that we, as mothers need all the support we can get!
"With the hypnobirthing I felt like I was in a bubble. I felt really special when I was pregnant and for a couple of months after the birth because I was listening to the hypnobirthing track everyday. It kept me in that bubble..then motherhood set in and I realised it was a job for life. I became really tired"
Lorna, Hypnobirthing mum of Pablo Jack born in 2015
A deep relaxation session for mothers to help them find calm amongst the chaos, learn mindfulness and self-hypnosis techniques to be more present and calm in any situation, an open space to chat and seek advice or empathy and more than likely there will be cake because mothers need cake.
Monthly Thursday evenings at Yogaloom (formerly Hilltop Studio) in Muswell Hill: 50 Hillfield Park Mews, London N10 3QR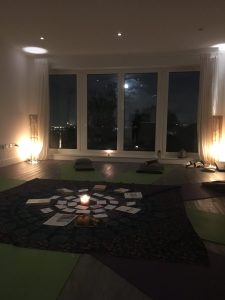 Upcoming sessions
Thursday 23rd Jan 2020: 20:30 – 21:30, £14, 'New Year, No need for a New You'
2020 Dates for your diary: 27th Feb, 26th March, 23rd April, 21st May
Ruth will also be running a very special Mindful Mothering 'New Year, New Intentions' session at the Life Centre in Islington on Sunday 19th January. More details and booking here.
"Ruth's sessions made me realise that I need to put myself in the centre.." Akemi
Did you know you can also download a Mindful Mothering recording to keep you going in between sessions. It's a hypnotherapy session in an MP3 and is only £8.99! What are you waiting for. Download here or contact Ruth to arrange a private session: info@ruthsabrosa.com.
"This track turns me into the calm, composed parent I want to be every time I listen to it" Ann Nkun
Mother-Daughter Empowerment Circle
Imagine if we could empower our daughters so that they may never need hypnobirthing in the future, join me in raising the next generation of strong, empowered females at our monthly Mother-Daughter Empowerment Circle in collaboration with Tomato Studio. Sessions will resume in the new year on Jan 12th. More details and booking here.