'An amazing experience despite not going exactly to plan'
I just wanted to let you know that Joshua Brady
M
uzio arrived safely on Tuesday 7th
M
arch at 2.55am.  The labour lasted only four hours!  It was looking hopeful for a home birth but because I was losing a little too
m
uch blood, we ended up in the Whittington labour ward.  The first three hours were at home and the last in hospital.  Joshua was delivered with ventouse assistance in the end because his heart rate was dropping.  It was an amazing experience despite not going exactly according to plan.
I can't attribute the calmness and speed of the labour enough to hypnobirthing.  Alex,
m
y
m
idwives and the nurses at the Whittington kept telling
m
e after how they were stunned how calm I was.  I remembered
m
y breathing through each contraction,
m
ainly concentrating on
m
aking
m
y body limp and "riding each wave".  The bumpy trip to the Whittington in an ambulance was a very challenging part!  It
m
ade
m
e realise how
m
uch added stress can really add to the pain.  Luckily I was able to relax again once I had arrived and an hour later, Joshua was here.
So thank you so
m
uch for your wonderful class and the tracks you sent
m
e.  They were invaluable and helped
m
ake
m
y birth experience quite incredible.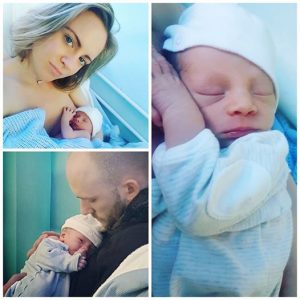 Here is the affirmation board that Caroline and Alex made in preparation for the birth: